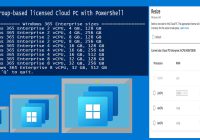 Resizing a Windows 365 Enterprise Cloud PC is very easy and can be done directly within the MEM portal. I like this feature and how seamless it's working. However, we cannot resize our Cloud PC if we have assigned the license through group-based licensing.
Group-based licensing is a must to gain better visibility and control of your licenses. Therefore it's a big issue if you ask me.
This article will showcase the PowerShell script I have created to resize group-based licensed Cloud PC.