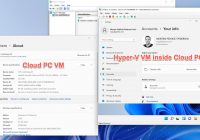 Many types of people are using virtualization on local devices. For organizations that use Windows 365 Enterprise, Nested virtualization is now available. This empowers users to create virtual instances on their Cloud PC as they would on their local device. Users can use the following systems with this new feature:
Windows Subsystem for Linux (WSL)
Windows Subsystem for Android
Sandbox
Hyper-V
In this article, I will go through the requirement for nested virtualization on Cloud PC and how to get started with it by enabling Hyper-V.